[Life Sum] Non-Contact Automatic Mist Hand Sterilizer/Portable Sterilizer LFS-HA36
Lifesum
Automatic mist hand sterilizer (LFS-HA36) 4 types 

Hand disinfection is also non-contact!
*It does not contain harmful substances for respiratory diseases.
*It is the best hand sanitizer for household use, which can be used without installation
and can be moved wirelessly in front of the entrance or on the table.
*Mist-type spraying lasts evenly for 10 seconds, making it refreshing without moist feeling!
-Infrared motion sensor mounted
-Non-contact type automatic injection
-Wired/wireless use available
-Wireless use of 1500 times per full charge
* Minimized battery consumption power system
The power is automatically turned off if not used for 24 hours after the last use.

[Use it like this.]

After going out from home
Cafe, restaurant, kindergarten, etc.
Disinfection of personal items such as cell phones and glasses

[How to use]

-Remove the translucent container at the bottom of the body by turning it clockwise.
-Fill up to 80ml of disinfectant and assemble by turning counterclockwise while aligning the seams at the top and bottom.
-When you press the power button on the back of the product, a white LED appears on the top for 3 seconds and is activated.
-When you place your hand about 0~15cm above the product nozzle, the sensor recognizes the motion and sprays the disinfectant.
Single spray duration: 10 seconds, sensing distance range 0~15cm
-Press the power button on the rear of the product again to turn off the power. (No separate LED indication)
* When using for the first time, wait 2~3 minutes for the filter to absorb the liquid before using
* Do not use it upside down or shake it as it may cause liquid leakage.
* Plug the C type charging cable into the product charging port. Red LED indicator appears while charging.


Guide to available disinfectants


The hand sterilizer product does not contain disinfectant (ethanol).
Please purchase Lifesome Hand Sanitizer (ethanol) 200ml,
or use the disinfectant solution below.
-General medical ethanol (alcohol) disinfection liquid
-Liquid with less than 75% ethanol concentration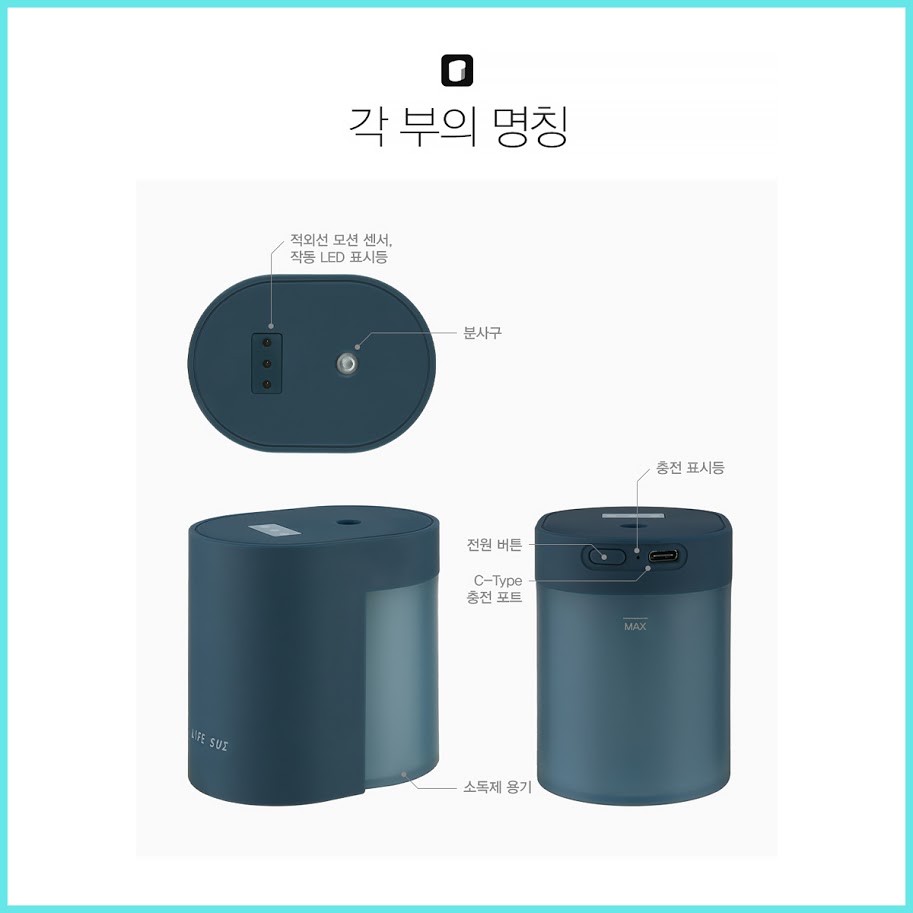 Lifesum Ethanol Hand Sanitizer 200ml
Hand sanitizer for automatic mist hand sterilizer

-Food and Drug Administration certification
-90% removal of harmful bacteria
It has excellent sterilization and disinfecting power as it contains 70% of alcoholic ethanol used in food ingredients.
-Skin moisturizing effect
Contains glycerin and green tea extract ingredients to protect the skin and reduce dryness.
-Relief ingredients
For daily use, ingredients that affect the human body such as surfactants,
synthetic disinfectants, and artificial fragrances have been excluded.