[GMPHARM]The Folic For Mommy / Daddy 500mg x 50 capsules x 2EA Pregnant Maternal nutrition

The Folic For Mommy

500mg x 50 capsules x 2EA (for 100 days)


Pregnant women folic acid / folic acid 600ug + vitamins B2, B6
Folic acid for prospective mothers, The Folic For Mami is the first step in preparing for a healthy pregnancy.
1 capsule per day, 600 ug folic acid, 350 mg of supplementary ingredients Omega 3,
vitamin B2, B6, simple and hygienic individual packaging of PTP


[Recommended for these people.]


-Women of childbearing age preparing for pregnancy
-Pregnant/nursing women with increased folic acid demand
-Growing children and adolescents who need sufficient folic acid intake
-Modern people lacking vegetable intake due to their usual meat-oriented meal
-Those who want to promote health and vitality by supplementing with folic acid
-Those who are concerned about nutritional imbalance with diet
-Those who need nutritional supplementation due to irregular meals or irregular intake
-Pregnant women who are interested in the normal development of the fetal neural tube
-Those who need the formation of red blood cells
-Those who need folic acid intake for cell and blood production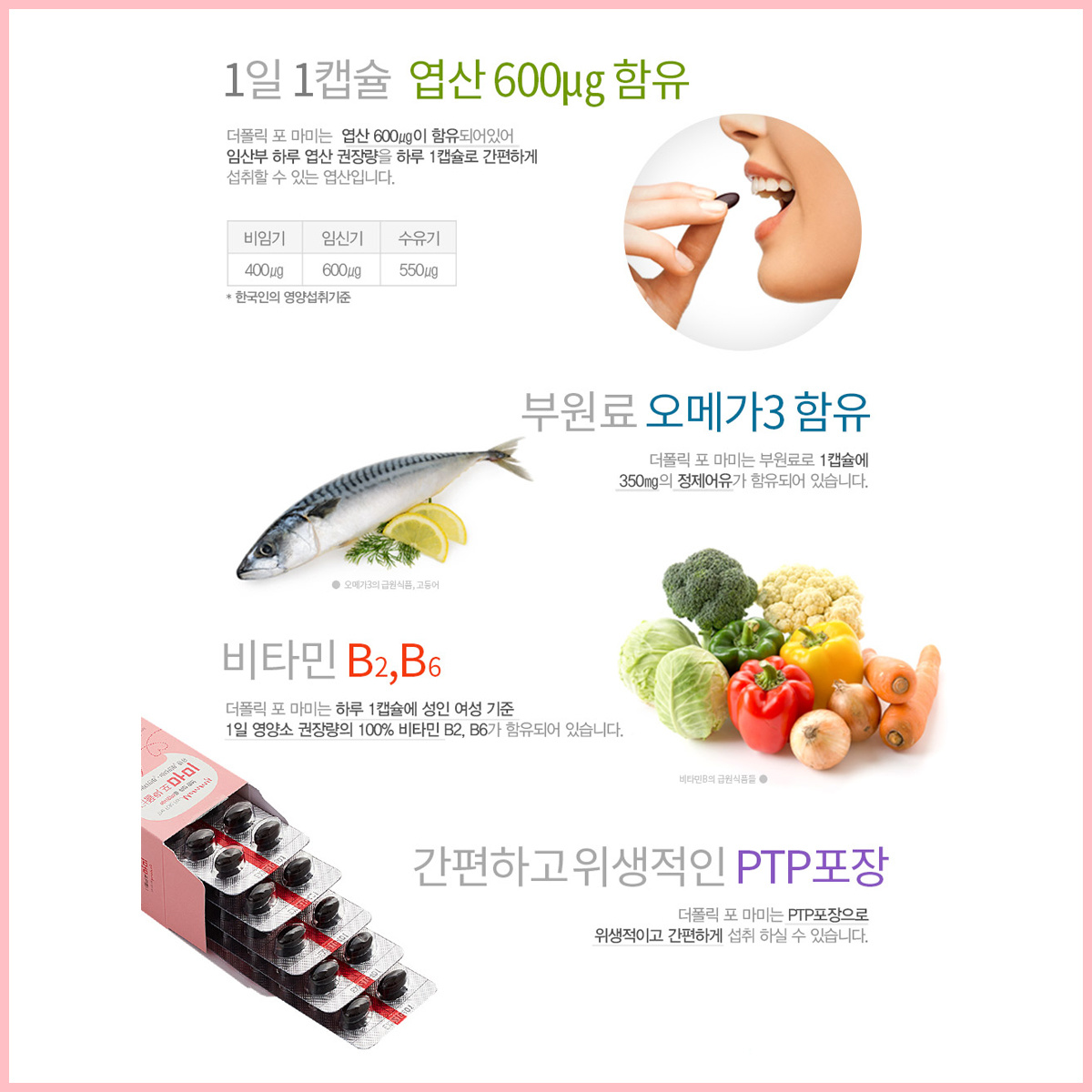 The Folic Four Daddy
500mg x 50 Capsules x 2EA


You can fill the standard folic acid for adult men with 400 ug of folic acid per capsule per day.
Contains mineral zinc 12mg, selenium 54ug.
Each capsule contains 109% and 54% of vitamin E and C of the daily nutritional standard for adult males.
One capsule contains 25ug of vitamin D, 250% of the daily nutritional standard for adult males.
Contains 10mg of coenzyme Q10 as an auxiliary ingredient
Simple and hygienic PTP packaging